Personal training for wellbeing
Are you looking to  make positive changes in your life? Personal training benefits both your physical and mental health, helping you focus on feeling happier and healthier.
small group personal training
small group circuit training
what is personal training for wellbeing?
Personal training is a dedicated one to one (or small group) fitness training programme.  I'm interested in supporting people with their whole wellbeing, not just physical fitness. The initial consultation is absolutely key in understanding what changes you want to make in your life. So depending on what you tell me, I will then help and guide you on your journey to reach the goals that you want to.  I feel its so important that personal trainers listen to what someone wants and provides options that work for that individual.
If you have any questions or would like to book your FREE initial consultation, please contact me and I'll be happy to help.
personal training packages
I offer a variety of different personal training packages, including 1-1 or small group personal training where you can travel to me; I could travel to your own home (in the Exeter area*) or online. If you book a block of 4 weeks, then there is a reduction in price (and a further reduction for longer term bookings). You will receive a FREE no obligation initial consultation.  All training packages are pay in advance.
I also offer circuit training sessions for small groups. Circuit training is a great workout that is accessible to everyone. It includes a variety of exercises that either the group can do together or each individual within the group can do and then swap. Each exercise can be done at your own pace and its a great way to exercise socially. 
For small group personal training or circuit training prices, please contact me for a quote.
*There may be an additional cost, depending on location
PAYG = Pay As You Go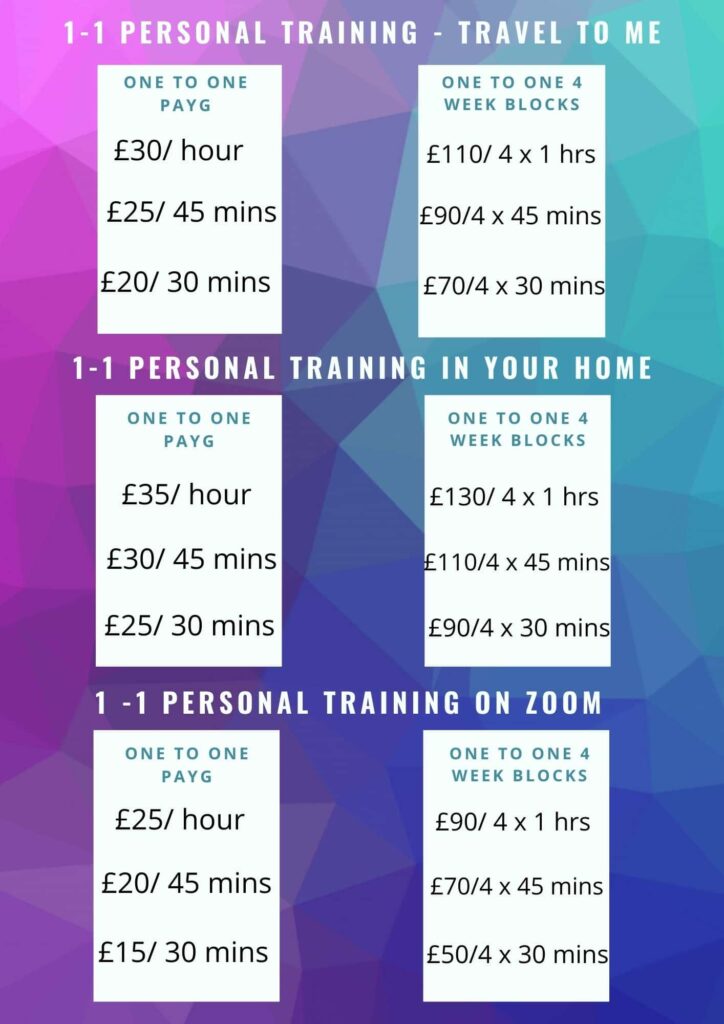 You may want to consider a combination of my online fitness classes and personal training! There are lots of variations that would be possible, so why don't you check out my online timetable to see how many classes a week you'd like to do and contact me if you'd like a quote. I'm also happy to advise on the best combination for you, depending on your personal goals. 
If you refer a friend for 1-1 Personal Training and they book a minimum of 4 sessions, then you can receive a discount for 4 weeks of personal training for yourself! Just contact me for more information.
If you're interested in having personal training, you can contact me using the form below and I can get in touch to talk through options and next steps, should you wish to take them.